The "first" day comprised of us hopping on a train up to Heathrow to board a 10hr flight to Shanghai.
Apparently we were on a plane that had been in operation for just over a year, which sounds promising but somewhere along the line they decided that it would be a good idea to replace the shutters on the windows with dimmer switches, which is nice and fancy in theory but when you're flying in the direction of the land of the rising sun that sun has only a tinted window between it and your eyes while you're attempting to sleep.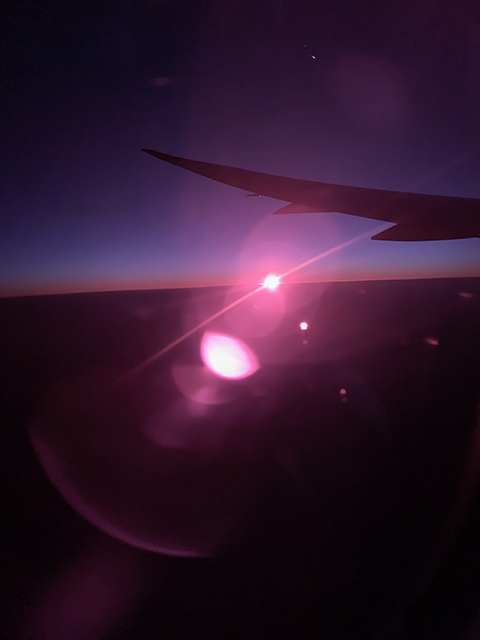 I also had the pleasure of sitting behind someone with rediculously long legs so he had the seat as far back as it would go at every oppertunity. To put it in perspective, when we were getting off the plane I noticed that he was sitting with his legs akimbo as far apart as they would go, even with the seat back. At some point, surely you'd have to give in and pay for extra leg room when your legs span half the length of the plane.

The flight wasn't all bad, by any means. I just decided to start with the negative. Cresta and I watched the same films at the same time, basically watching them "together". We caught up with films that we'd missed in the cinema: Bohemian Rhapsody (which was great), Slaughterhouse Rulez (which was disappointing, considering it had Simon Pegg and Nick Frost in it, though they didn't have major roles) and Christopher Robin (which we really enjoyed). The food was fine and the coffee was as mediocre as you would expect.
After leaving the plane and following the crowd through to the next section we used the self-service desk to get our fingerprints scanned. That wasn't too bad until I established that Cresta was having difficulty with hers – her right hand kept being ignored when scanning the four fingers. By the time it decided to scan everyone else had cleared out so there was nobody left to follow. Eventually we found our way to the next queue for the security check, joined the back of the queue and one of the security guards helped us fill in the immigration "toilet paper" print-out for the last parts that we were unsure of. I went through hassle-free, while Cresta was caught up for an extra few minutes trying to explain that we were a part of a tour group.
After collecting our bags we carried on through to the exit where there were countless people calling out to offer their services as a cab driver. Thankfully Cresta spotted the Newmarket sign and we met up with the group! We were introduced to Peter, the tour leader. He provided us each with a nifty business card that has his number and a message in both Chinese and English with the message "Please help me to call this number, thank you" in case we were ever split off from the group and got lost. He also introduced us to Autumn, the specialist for Shanghai.
There were 13 of us in all and each couple (except for one on her own) that came along was assigned a number, a tag for which was tied on to our respective luggage. The number allowed porters to marry up room numbers with bag numbers, rather than leaving them to read English names on luggage tags. Can't knock it as it worked.
Straight away we were on to the tour! We hopped on the bus and after a fair journey we first stopped off at the Oriental Pearl Tower, the tallest TV tower in China and one of the tallest TV towers in the world.
The lift inside was really quick; it must have been at most 1min to ascend to the top viewing deck (the Transparent Observatory) 259m up. Your ears promptly pop on the way.
For some comparisons (which were listed across a wall):
Eureka Tower 285m
Sky Tower 328m
Khalifa Tower 828m
Kuala Lumpur Tower 421m
Tokyo Tower 333m
Seoul Tower 236.7m
Canton Tower 600m
Macau Tower 338m
Peal Oriental Tower (I.e.: this one) 468m
Walking around at the top you could appreciate just how tall this tower was with the amazing view! It was overcast that day so visibility wasn't as good but it's still a sight to behold. I've touched up the photos below to remove some of the haze.
After a few minutes of walking round, gawking at the view and taking a variety of photos it was on to the next floor down, where you can see all of the way down…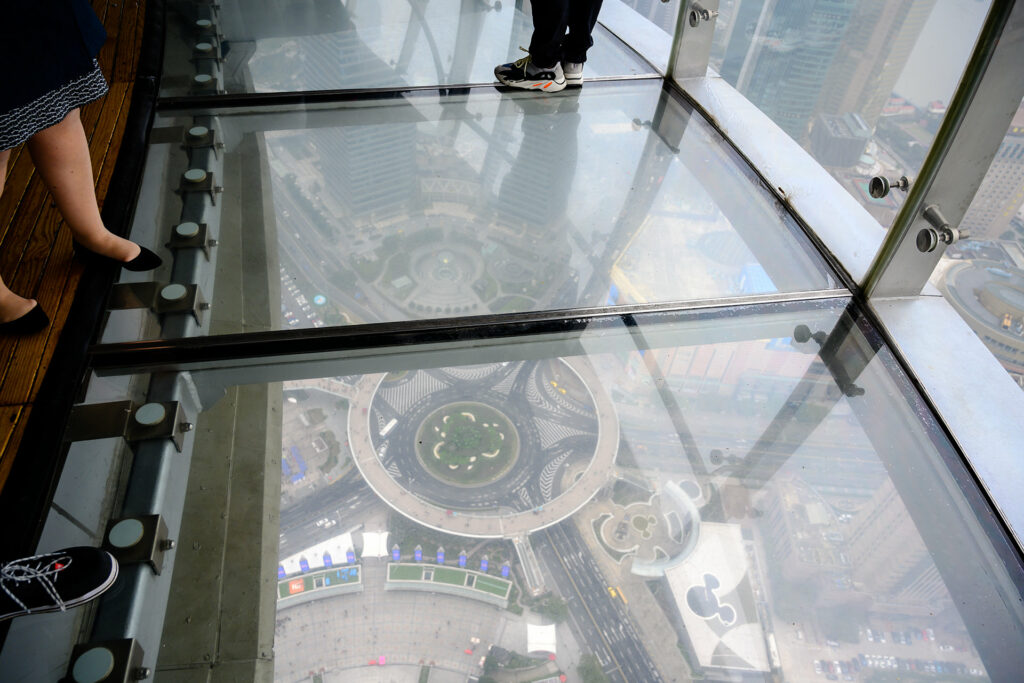 Yep, round the outside of the next room down was an area that had a glass floor. That was quite the experience! Generally speaking, looking down is not that worrying but above the windows were gaps where the wind comes in and it was a windy day! Coupled together with the view and you really felt like you were outside and that was unnerving. Fantastic experience though.
Down at the ground floor of the tower they also had a museum of Shanghai. This was a tad quick – (if I recall correctly) we were provided 20min to go through this museum. Also, this was my first time using a flash with this camera so the photos aren't going to be as good as they could have been. Due to the time constraints I also missed a lot of the plaques that explained what they were!
Lunch was next on the agenda. I'm not a fan of taking snaps of food but basically at the restaurants you get a huge, round table with a large Lazy Susan in the midde. The staff then come through with each dish on its own, kind of like a larger Tappas. People then pick the bits that they want accordingly. Each meal also came with tea plus 1 glass of a drink (a beer, Coke or Sprite) and any additional or Diet (etc) cost extra. They also provided chopsticks as standard (which Cresta & I took to straight away, though nobody else did) and forks on request. It made for a nice, sociable experience.
After lunch we went to the other side of the river to the bund, though it had unfortunately started raining. Add to the fact that everyone had little to no sleep on the plane and the enthusiasm to continue was very low. We didn't miss much though, just the view from the other side of the river, really. So, after a brief visit we set off to the hotel.
At the hotel we presented our passports and each person had to have their photo taken. A few minutes later and everyone was handed their room keys (cards) and we promptly left for a much-needed rest. I slept from about 3PM (China time) to 6AM the next day! The room was fantastic.