There wasn't really much to say about the end, really so I thought I'd pad it out a bit.
The hotel prior to the flight back had a really fascinating view indoors in my opinion – walking out of the room we were just opposite the stairs overlooking the bar area. Being able to see the tops of the parasols made for an interesting perspective.
We departed on the internal flight again back to Shanghai, where Autumn met up with us and gave back the bits that were confiscated by the Bullet Train security.
As it was the last day and we skipped the first dinner due to tiredness we had an extra-special final dinner: two drinks each instead of one. I don't actually know what other upgrades there were to the dinner.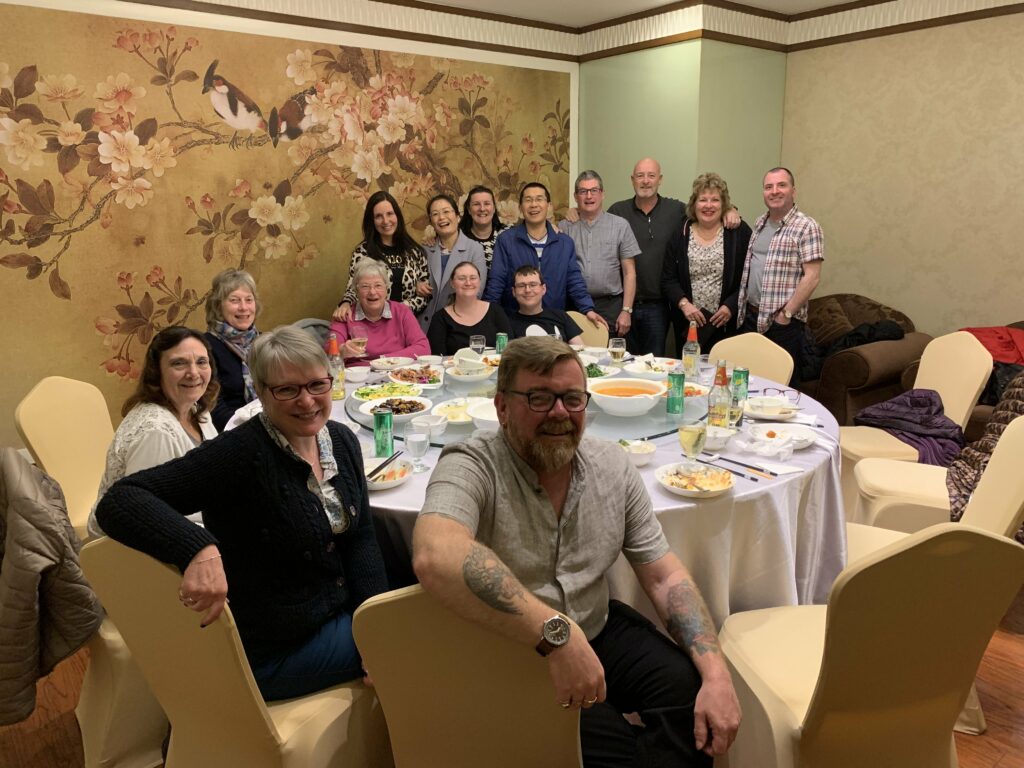 This was the tour group. Colin at the front with his wife, Ruth beside him, Sue, Sicily and her friend (neighbour, I believe), Jenny, Cresta and I then behind us right (in the photo) to left was Martina, Autumn (the Shanghai specialist), Cathy (Martina's sister), Peter (the main tour guide), Steve (Sue's husband), Raymond (Martina's husband), Liz (who came alone – she's from Edinburgh, she was fine) and Paul (Cathy's husband). Delightful bunch, though Ray really needed to try food while he was out there (he didn't eat anything except chips, which was rare – he kept packing lunch made from breakfast or they'd eat before lunch & dinner).
On the night cruise it was fairly brief as it was to show off the spectacular lights in front of the night sky but a wonderful way to round off the tour. Up on the deck we paid for the VIP area (which worked out to be about £12 between the two of us) where it was less crowded and we were treated to a shortbread-like cookie and a flavoured vitamin water, which was a nice addition. This made for a much more relaxed evening to drink in the sights.